Zelenskyy: We are ready for peace, but peace for entire Ukraine
Read Time:
2 Minute, 57 Second
Ukraine is interested in peace all over Ukraine, but the territory of other countries does not concern it, as stated by President Volodymyr Zelenskyy in liberated Kherson.
Source: Office of the President of Ukraine
Quote: "We are gradually making our way to all of our country's temporarily occupied territories. Of course, it is difficult; it is a long and difficult way. The best heroes of our country are in this war… 
We are moving on. We are ready for peace, but peace for our entire country. This is the territory of our entire state. We respect international law and the sovereignty of every state, and now we are talking about the sovereignty of our state. That is why we are fighting against Russian aggression."
Details: Zelenskyy has pointed out that Ukraine does not believe Russia's statements as it is trying to mislead the world community and will keep liberating territories occupied by the aggressor. 
"We are not interested in the territory of other countries. We are only interested in liberating our country, and our land. Therefore, I do not know what will happen next, but it will happen," he said. 
Zelenskyy has highlighted that Ukraine is now paying a high price for victories on the front as the Russians do not want to voluntarily give back the captured land. 
We have launched English Twitter! Follow us!
Quote: "No one gives anything away so easily. The price of this war is high. People are injured, and there are a lot of people killed. So, either [Russian troops – ed.] retreated or fled; we think they fled because our army encircled them and they were in danger. There were fierce battles, and the result is that we are in Kherson Oblast today."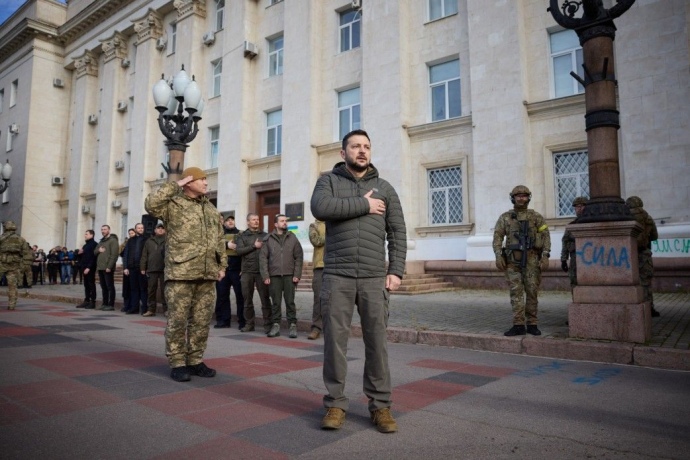 In Kherson, in the presence of Zelenskyy, the flag of Ukraine has been raised
PHOTO: Office of the President of Ukraine
Background:
Journalists fight on their own frontline. Support Ukrainska Pravda or become our patron!