Many Russian tents with servicemen seen in Belarus, as well as MiG jet interceptors and Kh-47M2 Kinzhal missiles
Read Time:
2 Minute, 6 Second
In addition to Russian MiG-31K jet interceptors and containers where Kh-47M2 Kinzhal missiles may be stored, tents with Russian military personnel appeared at the training grounds of Belarus.
Source: Radio Free Europe/Radio Liberty, showing Planet Labs satellite images
Details: A large number of military tents and equipment may be seen at Obuz-Liasnoŭski, the 230th general military training ground near Baranovichi [Brest Oblast, Belarus]. The pictures were taken on 31 October, but, according to the source, the personnel and equipment started to arrive at the training ground after 16 October.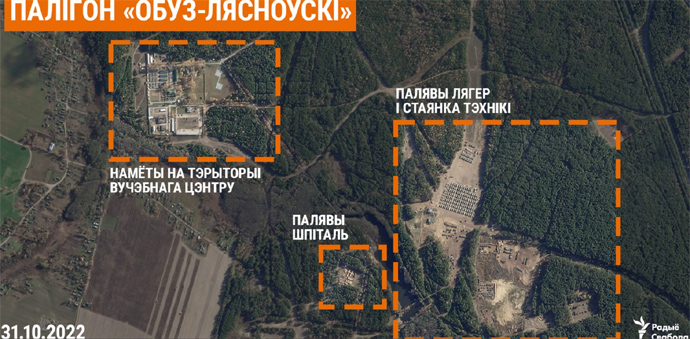 The picture shows two tent camps. The larger one is 150 by 220 metres [more than two football fields – ed.]. The size of the other camp is 90 by 90 metres.
Radio Free Europe/Radio Liberty noted that at least 150 tents were delivered there. An estimated 200 pieces of military equipment, mostly trucks, are near those tents.
To the north of the camp, there is a field hospital measuring 100 by 80 metres, the size of a football field.
At least 40 tents covering a total area of 100 by 60 metres may be seen in the northernmost part of the training centre.
Sponsored contentNew Unit.City campuses by Kovalska Industrial and Construction Group. Aesthetics, Innovation and Energy Efficiency in Wartime
Another tent camp measuring 50 by 160 metres, with at least 35 military tents, was spotted at Repishcha military training ground near Osipovichi [Mogilev Oblast of Belarus].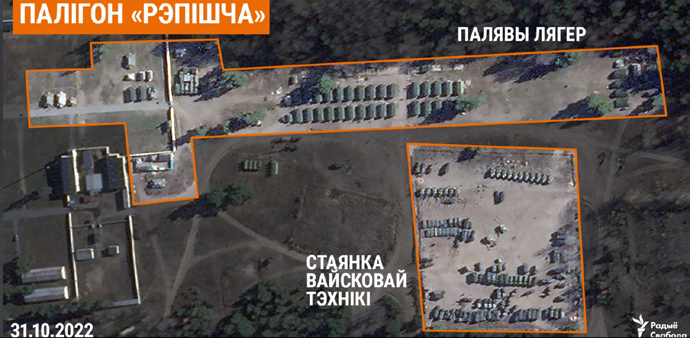 Nearby there is a parking lot for equipment (150 by 150 metres); there are trucks and several vehicles similar to howitzers.
Veraĭtsy station is located to the north of the military training ground; there is a train there, from which the equipment is unloaded. Some of the equipment is already on the road heading towards the training ground.
Satellite images of the Lasvida training ground near the city of Vitebsk, Belarus, show that tents started to appear there after 11 October; later the first equipment arrived and the camp started to grow in size.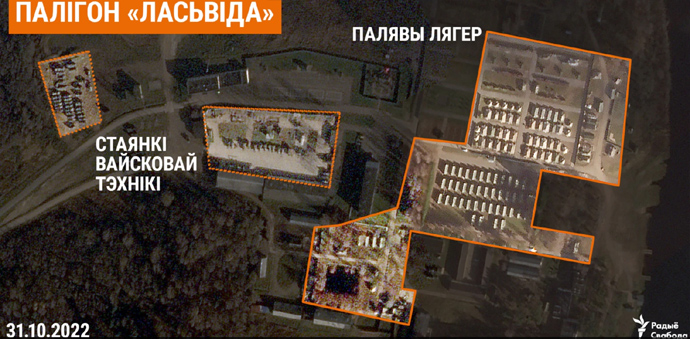 Background:
Earlier, the Norwegian news outlet Faktisk had published satellite images of the Machulishchy airfield, which were taken by Planet Labs on 18 and 31 October at 10:41 (Kyiv time). The latest photos showed that three MiG-31K supersonic interceptors of the Russian Air Force, which can carry Kh-47M2 Kinzhal hypersonic air-launched ballistic missiles, remained at Machulishchy airfield.
Journalists fight on their own frontline. Support Ukrainska Pravda or become our patron!