Russian government wants Crimean Bridge repaired by July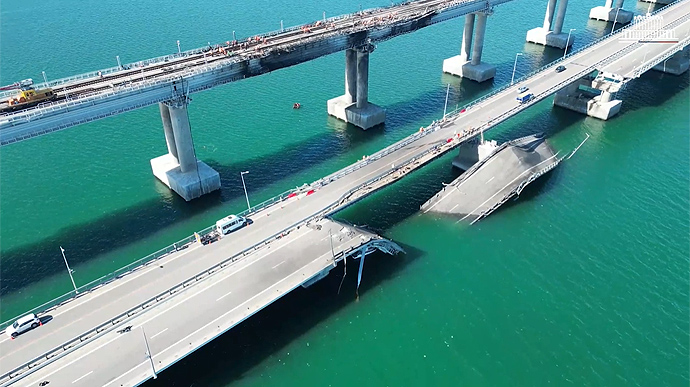 IRYNA BALACHUK — FRIDAY, 14 OCTOBER 2022, 11:02
The Russian government has ordered that the Crimean Bridge be rebuilt no later than 1 July 2023. Nizhneangarsktransstroy [a construction company in Irkutsk — ed.] will carry out the works.
Source: Kremlin-aligned news agency RIA Novosti, citing the corresponding order of 13 October
Quote from order: "To set 1 July 2023 as the deadline for the conclusion of state contracts for the performance of the works."
Details: By the same document, the Russian government has appointed Nizhneangarsktransstroy LLC as the sole contractor for the bridge restoration works.
For reference: The construction of the Crimean Bridge has been underway since 2015 in violation of international law, as Ukraine did not give any such permission. The road part of the bridge was officially opened in occupied Crimea in May 2018. Putin presided over the opening of the bridge, driving a truck across the bridge from Taman to Kerch.
Background: 
We have launched English Twitter! Follow us!
Journalists fight on their own frontline. Support Ukrainska Pravda or become our patron!