Starlink network to be deployed in the cities of Ukraine in case of a blackout
Read Time:
1 Minute, 40 Second
ECONOMICHNA PRAVDA – THURSDAY, 10 NOVEMBER 2022 20:56
Poland handed over 1,570 more Starlink terminals to Ukraine – the network is to be deployed throughout Ukraine so that even during a blackout, Ukrainians, as well as Ukrainian Railways trains, have communication.
This was reported by the press service of the Ministry of Digital Transformation.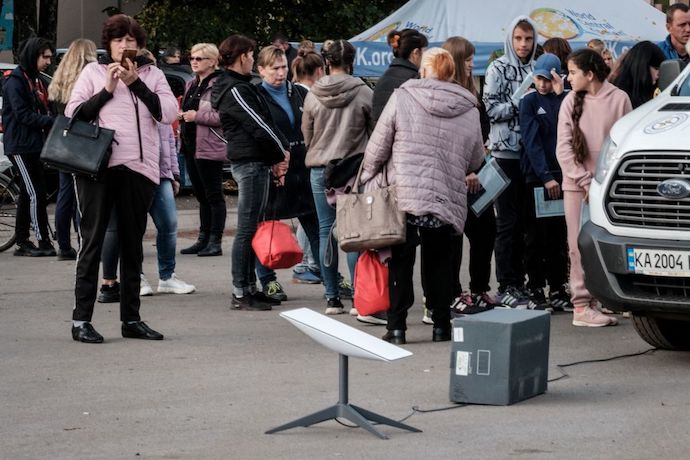 photo:GETTY IMAGES
Currently, the Starlink terminals are helping Ukrainians to maintain communication in the liberated territories and in combat zones. According to the Ministry of Digital Transformation, public Wi-Fi points will operate in liberated cities and villages thanks to the terminals, where residents will be able to congregate and connect to the Internet.
"We also plan to deploy the Starlink network not only in the liberated territories, but also in all cities of Ukraine. This is necessary so that people have access to communication even during a blackout," the Ministry of Digital Transformation said. "In addition, we will provide Ukrainian Railways with terminals so that passengers and employees can stay in touch while on the road."
The Ministry reported that since the start of the full-scale invasion, Ukraine has received more than 20,000 Starlink terminals from its donors and partners, of which 5,000 are supported by the Polish government. 
Background: 
We have launched English Twitter! Follow us!
Since 24 October, interruptions in the operation of Starlink satellite units from Elon Musk's SpaceX began in Ukraine, probably due to funding issues – this affected 1,300 devices.

In September, SpaceX requested that the Pentagon continue funding Starlink's operation in Ukraine, which the Ukrainian military finds essential to maintain communication in the combat zone. The company stated that it cannot continue to finance the operation of terminals for Ukraine.

Later, Musk said that Starlink will work in Ukraine regardless of the US Department of Defense's willingness to provide funding.
Journalists fight on their own frontline. Support Ukrainska Pravda or become our patron!