Russians damage more than 1,000 Ukrainian hospitals since start of full-scale war
Read Time:
1 Minute, 9 Second
YANA OSADCHA – SUNDAY, 6 NOVEMBER 2022
Over the eight months of the full-scale invasion, the Russian occupiers have damaged 1,100 medical establishments. 144 of them are completely destroyed. 
This has been reported by the Ministry of Health of Ukraine. 
Kharkiv Oblast is the region where the greatest number of medical establishments were impacted – 249 in all. In Donetsk Oblast, 210 hospitals have been damaged or destroyed. 
In Mykolaiv Oblast, 148 medical establishments were affected, and in Kyiv Oblast, 121; 41 of those are in the city of Kyiv.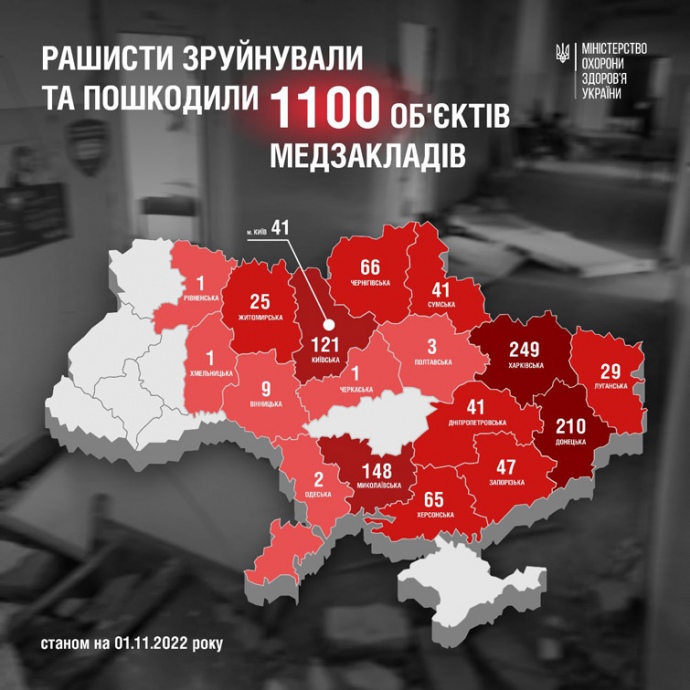 At the moment, 95 medical facilities have been fully restored and another 204 have been partially renovated. 
"The cost of preliminary restoration of destroyed medical establishments has been estimated at more than 38,000,000,000 hryvnias [approximately US$1,023,397,000 – ed.]," the Ministry stated.
Sponsored contentNew Unit.City campuses by Kovalska Industrial and Construction Group. Aesthetics, Innovation and Energy Efficiency in Wartime
Ukraine's losses in the full-scale war have amounted to more than US$127 billion. Residential buildings account for the bulk of that sum, 39.7%. The infrastructure sector comes in at the second place, with losses of 27.7%. Losses of educational infrastructure are estimated at US$6.95 billion. 
Journalists fight on their own frontline. Support Ukrainska Pravda or become our patron!