Attack on high-rise building in Mykolaiv: death toll increased
Read Time:
1 Minute, 17 Second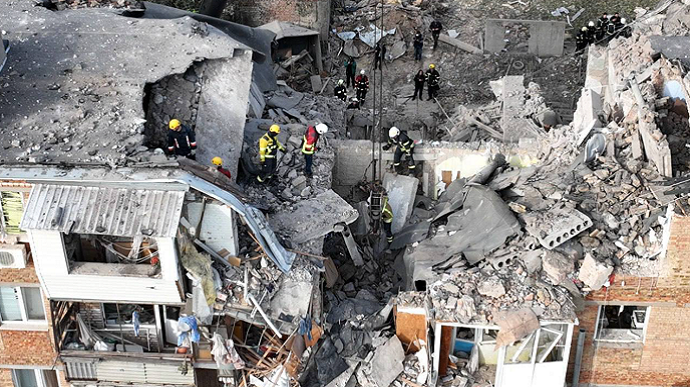 UKRAINSKA PRAVDA — FRIDAY, 14 OCTOBER 2022, 19:10
In Mykolaiv, the body of the last victim was taken from under the rubble of a high-rise building hit by a Russian rocket on 13 October; thus, the number of fatalities reached eight.
Source: Oleksandr Sienkevych, mayor of Mykolaiv, on Telegram
Quote from Sienkevych: "Rescue workers completed a search operation under the rubble of a residential building where a Russian rocket hit. At 14:30, they recovered the body of the last victim. In total, the bodies of six dead people were recovered from under the rubble of the building." 
Details:  Sienkevych added that 8 residents of the city died as a result of the Russian attack, including 7 residents of the house and a rescue worker who was on duty at the boat station.
Four high-rise buildings were damaged. There are two severely damaged sections in one of them; that's where the rocket hit. 
Previously:
We have launched English Twitter! Follow us!
On 13 October, Russia fired eight S-300 missiles on Mykolaiv. However, one of them hit a five-story residential building and the boat station building.

Initial reports said there were at least 4 dead. On the evening of 13 October, an 11-year-old boy, who was taken out from under the rubble of a house after Russia's attack on Mykolaiv, died in hospital.
Journalists fight on their own frontline. Support Ukrainska Pravda or become our patron!