Zelenskyy praises results of Ramstein meeting and creation of new group to coordinate financial aid for Ukraine
Read Time:
2 Minute, 32 Second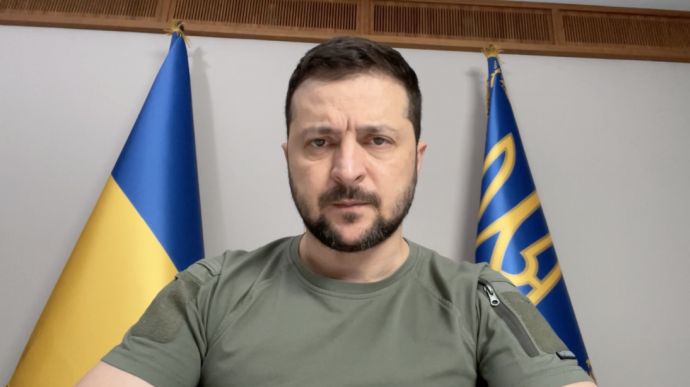 Volodymyr Zelenskyi, photo of the President's Office
WEDNESDAY, 12 OCTOBER 2022, 22:33
Ukrainian President Volodymyr Zelenskyy said that participants in the sixth Ramstein-format meeting discussed providing Ukraine with additional anti-aircraft and anti-missile defence systems. He additionally reported that a "financial Ramstein" group was being created [to coordinate financial aid for Ukraine].
Source: President Zelenskyy's video address
Quote: "I've just taken part in the second ministerial roundtable discussion [between] donor countries, the IMF and the World Bank, which help our country maintain financial stability.
The key issue is [to counter] our budget deficit and [to] quickly rebuild critical infrastructure, housing and social facilities that have been destroyed or damaged by the occupiers' strikes.
We are talking about significant amounts: tens of billions of dollars for the budget and the Fast Recovery [the plan 'for the rapid recovery of Ukraine' by the Office of the President of Ukraine – ed.]. But democratic countries' [capacity to provide aid for Ukraine] is much greater than [Ukraine's] existing needs. We are consolidating our partners' support for Ukraine. We are creating a financial 'Ramstein', a systematic tool [to ensure] constant support for our struggle for freedom.
[Additionally, a defence] meeting in the Ramstein format took place today. [It was] quite productive. Providing our country with anti-aircraft and anti-missile defence systems was at the top of the agenda."
We have launched English Twitter! Follow us!
Details: Zelenskyy said that "the more audacious and cruel Russian [acts of] terror become, the more obvious it is to the world that helping Ukraine to protect the sky is one of [Europe's] most important humanitarian tasks of our time."
He is convinced that Ukraine and its partners will succeed in this undertaking.
He thanked all of Ukraine's partners that have already approved decisions to ramp up their support in order to ensure that Ukraine can effectively protect its airspace.
The Ukrainian President recalled that earlier this week Russian missiles damaged energy infrastructure facilities in 12 Ukrainian oblasts and in the capital, Kyiv.
The electricity supply infrastructure has been fully restored in most oblasts that sustained attacks on Monday, 10 October. Repairs are still underway in four oblasts and should be completed shortly, Zelenskyy said.
Previously: US Secretary of Defense Lloyd Austin and General Mark Milley, chairman of the US Joint Chiefs of Staff, said that Ukraine's allies discussed the urgent need to strengthen Ukraine's air defence and the creation of an integrated defence system to defend against Russian aircraft and missiles during the sixth Ramstein-format meeting in Brussels.
In addition to the meeting of the Ramstein-format group, a meeting of defence ministers of NATO countries will also be held in Brussels. According to NATO Secretary General Jens Stoltenberg, strengthening Ukraine's air defence will be the top priority of the meeting.
Journalists fight on their own frontline. Support Ukrainska Pravda or become our patron!