Makhachkala: clashes at anti-mobilisation demonstration, protesters help detainees to fight off police
Read Time:
1 Minute, 25 Second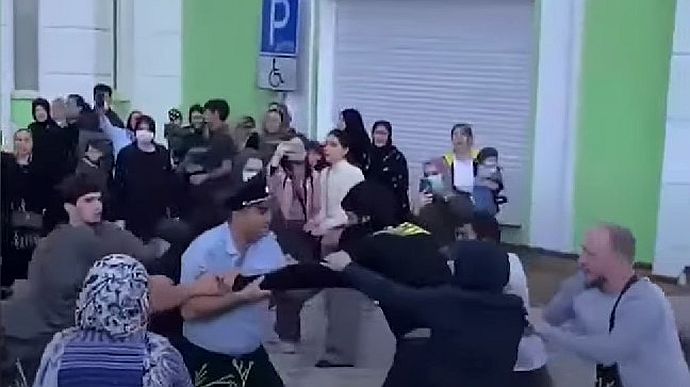 KATERYNA TYSHCHENKO — SUNDAY, 25 SEPTEMBER 2022, 20:12
Arrests and clashes with the police are taking place at an anti-mobilisation demonstration in Makhachkala (the capital of Dagestan, the Russian Federation), shots are heard, protesters are trying to help detainees to fight off police.
Source: Novaya Gazeta.Europe, citing local Telegram channels; Meduza Telegram channel
Details: In the evening, a large number of security forces arrived at the demonstration.
Protesters shout "No to war!" and "Our children are not fertiliser", and argue with policemen and help the detainees fight off the police.
We have launched English Twitter! Follow us!
One of the videos shows a policeman hitting a detained protester in the face, who was being forcibly held by two other security officers. The protester headbutted the policeman in response.
Another video showed a policeman in Dagestan running away from protesters.
Earlier in the day on Sunday, 25 September, Sergey Melikov, Head of the Republic of Dagestan, said that it is necessary to correct the mistakes that were made at the very beginning of the mobilisation. He said that many were mobilised who did not meet the criteria for mobilisation, amongst them students and parents of large families with young children, as well as "boys who have never held a weapon in their hands."
Background: Residents of the village of Endirey in the Republic of Dagestan blocked the Khasavyurt-Makhachkala highway with an anti-mobilisation protest on the afternoon of Sunday, 25 September. The police opened fire into the air.
Journalists fight on their own frontline. Support Ukrainska Pravda or become our patron!