Air raid siren sounded throughout Ukraine for the second time this morning
OLHA HLUSHCHENKO – SATURDAY, 22 OCTOBER 2022, 11:50 a.m.
Starting from 7:55 a.m. on 22 October, sirens warned Ukrainians of air raids throughout almost the entire Ukraine. After a brief all-clear was sounded, the air-raid siren was again sounded in all the oblasts starting from 11:40.
Source: Ukraine's air-raid siren map
Details: the air-raid siren map is showing that an air-raid warning has been declared throughout the entire Ukraine, with the exception of the temporarily occupied Crimea.
An air-raid siren sounding means the danger of missile strikes; residents are advised to take shelter.
Updated: Around 11:00 the all-clear was sounded. The air-raid siren was being sounded for three hours in most oblasts on Saturday, 22 October. Energy facilities of the country have been hit, some of them have been damaged.
Starting from 11:17 the air-raid siren began to be activated again in many regions.
We have launched English Twitter! Follow us!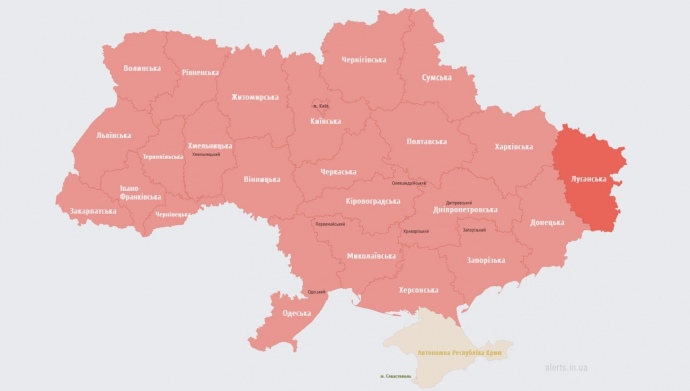 Journalists fight on their own frontline. Support Ukrainska Pravda or become our patron!