Death toll after attack on Zaporizhzhia on 8-9 October increases to 15
Read Time:
1 Minute, 6 Second
UKRAINSKA PRAVDA — FRIDAY, 14 OCTOBER 2022, 20:56
The bodies of 15 people have already been found under the rubble of a high-rise building in Zaporizhzhia that was hit by a Russian rocket on the night of 8-9 October.
Source: press service of the Regional Department for Emergencies
Quote: "As a result of rocket terror [attack] on a civilian facility in the city, 15 people died, 11 people were rescued, and six more are currently considered missing."
Details: As of 18:00, rescue workers have dismantled about 200 tonnes of rubble of construction structures.
We have launched English Twitter! Follow us!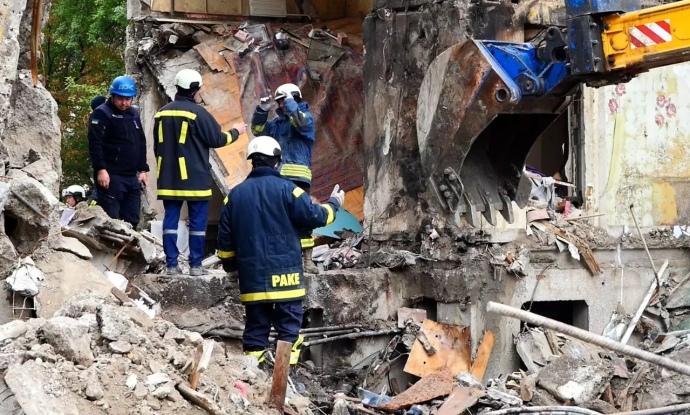 Previously:
On the night of 8-9 October, Russia launched an attack on Zaporizhzhia, firing 12 rockets. Dozens of private homes, two apartment buildings and the civil infrastructure under fire. As a result of direct rocket hits, all floors from the ground floor to six floors of the nine-story building were destroyed. As the ruins were dismantled, the other two floors collapsed, too.

On the morning of 14 October, it was reported that the death toll had risen to 13 people.
Journalists fight on their own frontline. Support Ukrainska Pravda or become our patron!